CSPI Expands Digital Banking Offering by Partnering with Modern Banking Systems
March 3, 2021 | Press Release
Computer Service Professionals, Inc. announced a new digital banking partnership with Modern Banking Systems (MBS). Modern Banking Systems is a leading provider offering powerful, flexible core processing software solutions for community banks.
According to Bob Neville, President of MBS, "As the urgency for digital banking services escalated throughout the pandemic, we knew it was our job to ensure we were offering an industry-leading online and mobile banking experience to customers at a competitive price point that would fit their budgets. We reached out to CSPI as we knew they not only provided a modern digital banking experience our clients expect but also share a similar mission to provide exceptional customer service."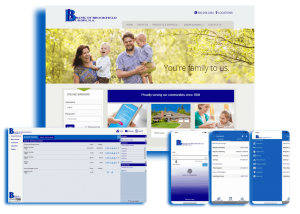 CSPI's Aurora Digital Banking product suite incorporates both consumer and commercial cash management, bill payment, customizable dashboard views, and many other services on a single, secure, and flexible platform. Aurora Mobile Banking provides customers the flexibility they deserve 24/7.
"Our team at CSPI was thrilled to form a digital banking partnership with Modern Banking Systems. We appreciate MBS's willingness to allow financial institutions to select the vendor of their choice. Having a core provider collaborate with industry leaders allows community bankers the ability to be nimble, first-to-market and is ultimately the key to growth and success," Clay Hamlet, Chief of Sales and Acquisitions at CSPI.
Since the end of Q2 in 2020, CSPI has signed 9 Modern Banking Systems community banks and successfully implemented their digital banking platform at 7 locations. State Bank of Scotia in Scotia, NE was the first to execute CSPI's Aurora Digital Banking suite in mid-September of 2020. We reached out to Peggy Jensen, Vice President of Operations, to get her input on their experience.
State Bank of Scotia's Digital Journey
We are a small, family-owned bank in central Nebraska. Believe it or not, we did not have online banking or a website of any kind until third quarter, 2020.  We had discussed the idea for several years but finally made the decision to move forward in the beginning of 2020.
Our bank was seeking a partnership that would provide our customers a modern digital banking experience at an affordable rate that would fit our budget. It was also important that we felt the company had interest in our goals, a small bank just beginning an online digital journey. We turned to our trusted core banking provider, Modern Banking Systems, for online banking platform suggestions that would integrate with our core solution.
After research, phone calls, and due diligence, we chose to partner with CSPI. Our team felt they were genuinely interested in helping us attain our goals. We were a little nervous implementing in the middle of a pandemic. Knowing the partnership between CSPI and Modern Banking Systems was recent was also a little nerve-racking . We were going to be the first bank to go live with their new API.
Paul and Cody from CSPI were patient with our team as they trained through Zoom meetings due to Covid-19. They were there to answer all of our questions and guide us throughout the process. From website design to taking our online and mobile banking app live, everything went according to plan. If a question or issue arose, CSPI's team researched and quickly found a solution.
Our customers have definitely appreciated the digital banking services. They have enjoyed convenient features such as mobile remote deposit and bill payment. As a community bank, we are always seeking to strengthen our customer relationships and provide services our customers desire. Continuing our partnership with Modern Banking Systems and adding CSPI's digital banking had truly made our much needed OLB platform a success!
About Modern Banking Systems
Modern Banking Systems (MBS) is a leading provider of core bank processing solutions. We know the daily challenges and regulations facing community banks. We believe that banks need to have the right services and technology in place if they want to retain customers and to compete in today's marketplace.
Community bank customers demand accessibility and control over their finances, so banks must conform or risk losing customers. Meanwhile, the bank must comply with new regulations, controlling costs, and preventing fraud. Our goal at MBS is to provide these community banks with solutions, through partnerships, that will give them the tools they need to better serve their customers now and well into the future.
About CSPI
As a valued software and service provider leading the FinTech industry for 33 years, CSPI continues to focus on the needs of today's progressive community banks and credit unions to meet the growing demands of account holders by providing core solutions, digital banking, document management and item processing.
We are core-agnostic and support API-first technology to create real-time integration for our Aurora Advantage Digital Banking product suite. Our dedicated team strives to enhance the user experience, deliver innovative solutions, significantly increase productivity, and provide exceptional service that exceeds your expectations. We believe if our customer succeeds, we succeed.
Media Contact:
Emily Twillman | Product Specialist
(800) 933.4873 or etwillman@cspiinc.com