Exceed Your Members Digital Banking Demands
In today's fast-paced mobile society, members demand electronic services at their fingertips.  They expect their digital banking platform to be secure, reliable, intuitive and personalized to their individual needs. CSPI's digital banking solution, Aurora Digital CU, provides a broad array of on-demand services that are easily tailored to your members' online banking needs.
Tailor the Member Experience Utilizing Our Fully Featured System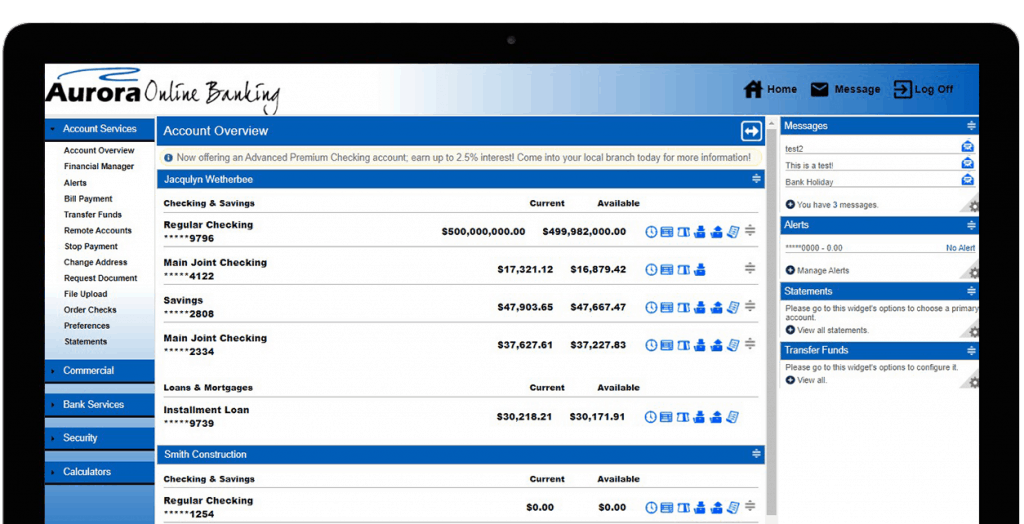 Aurora Online CU offers a complete digital banking suite incorporating both consumer and commercial cash management, bill payment, and many other services on a single, secure, and flexible platform.  Designed with security paramount, the system supports multiple layers of security, allowing various account relationships to be easily assigned through the administration portal, configurable password requirements, multi-factor authentication, and behavioral analytics.  The unique member dashboard feature allows users to custom tailor their landing page with the information they prefer, giving them greater control of their finances at a glance.
Consumers will have the ability to:
View account information and imaged statements with deposit detail
Initiate account transfers, loan payments and stop payments
Manage bill pay by adding payees, submitting secure payments, receiving ebills, and utilize P2P
Receive custom alerts for security, accounts and transaction detail
Reorder Member Drafts
Securely send and receive messages
Upload secure files
Define user preferences and customize the user dashboard view
Commercial members will benefit from additional cash management services:
Wire Transfers (with Fedwire and Swift)
ACH Origination
Payroll Management
Secure File Upload (NACHA, x937, etc).
Cash Concentration
EFTPS Tax Payments
Bill Payment CU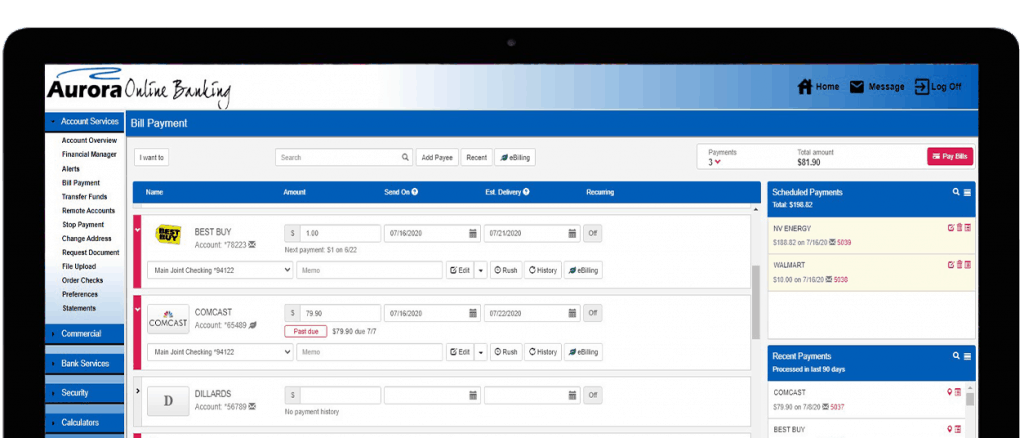 Aurora Online CU's seamless bill payment integration offers members a simplistic and engaging bill payment experience.  The bill pay management dashboard allows members to easily create payees, schedule and manage their payments all from a single screen, and incorporates P2P transactions.
E-Statements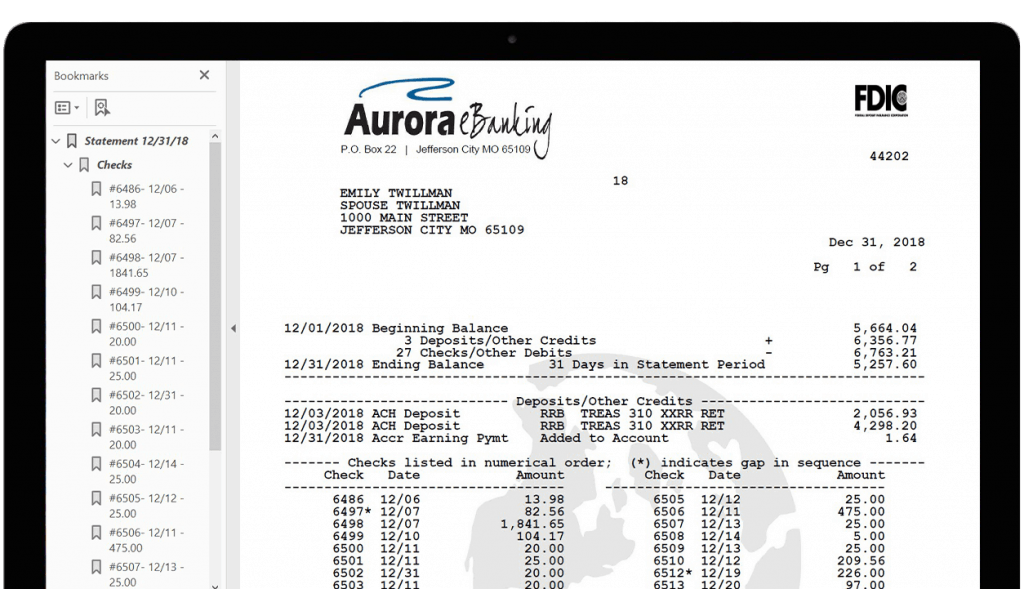 This service allows your members to safely retrieve their DDA and Savings statements online from any device, utilizing an easy-to-use web interface, customized specifically for your financial institution. Electronic Statements (eStatements) service provides secure customer access, utilizing dual authentication in prevention of phishing, and complete reporting tools for tracking member access, email notification bounces, and much more. eStatements is a win-win solution; it not only saves your employees valuable time from stuffing envelopes but the credit union will also enjoy cost savings from postage as well!
Integrated Digital Banking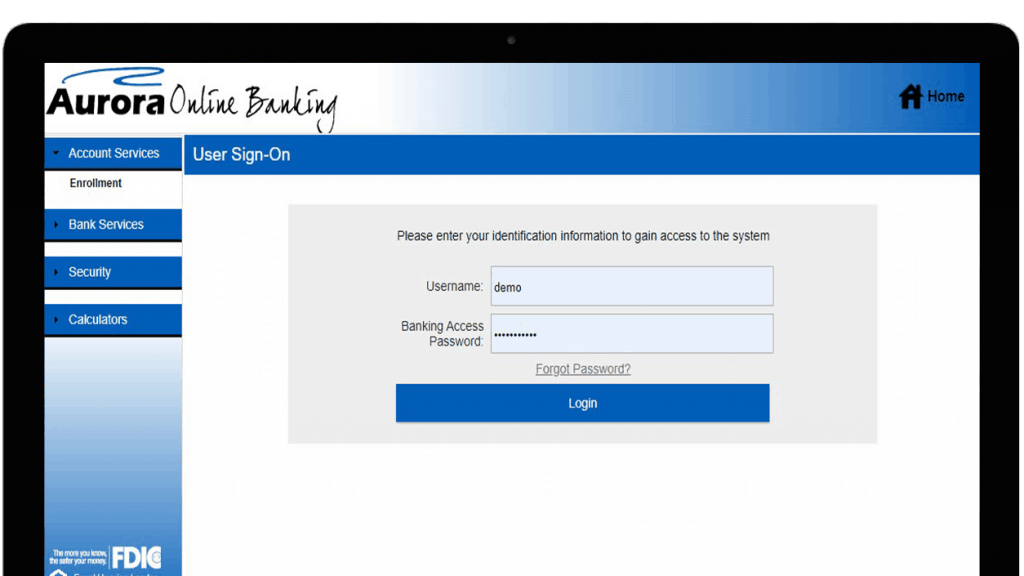 The integration of Aurora Online, Mobile and Voice Banking provides a common core interface, consistent omni-channel data and analytics, less administration for your institution and richer member experience. The Aurora eBanking suite can be branded to your institution, providing a clear and consistent cross-channel identity and message to your members.
Website Design & Hosting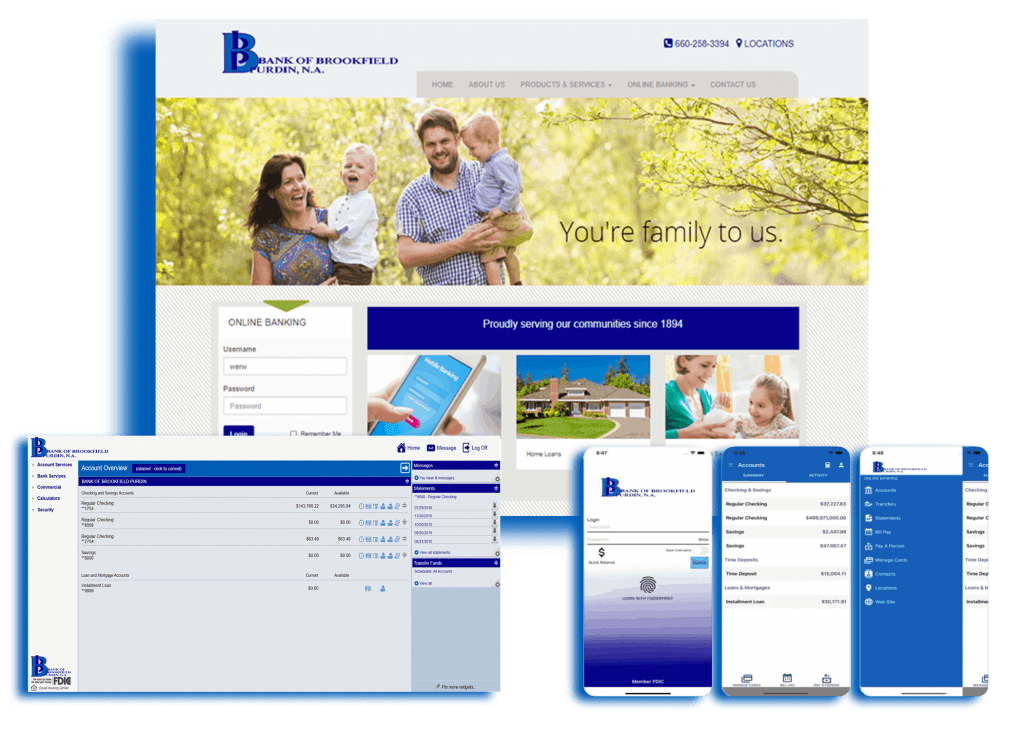 With the installation of Aurora Online CU it is an ideal time to update your financial institutions public website. Let our dedicated team provide you a new modern internet presence to go along with your new digital banking services. We will work closely with your team through the design, construction and deployment of your new website to ensure you project the image you desire. We also offer secure reliable hosting services and ongoing website maintenance services to keep your website updated in the years ahead.