10 Features to Enhance Your Small Business Owners Online Banking Experience
February 23, 2021 | Blog
It's no secret that COVID-19 greatly impacted small businesses. Many business owners have been forced to reevaluate their strategies and trim unnecessary costs. As they assess their finances and seek new technologies and efficiencies, our team wants to share 10 features that will enhance your small business online banking experience.
 1. All Inclusive Digital Banking Platform – Offering account holders a blended platform allows digital banking users the ability to manage all of their accounts, both retail and commercial, from one platform. Yes, that means only managing only one user name and password to access all accounts!
 2. Security – Businesses can take advantage of using dual authentication methods or a hard/soft token environment to ensure secure access when creating financial transactions.  All transactions may also be configured for dual control or secondary authentication. Financial institutions will benefit from assessing risk factors based on account holder relationships by setting limits, restricting accounts and product features.
 3. Card Management – Having card management built into a mobile app empowers employers with the ability to monitor employee debit card transactions, set alerts and restrict card access.
 4. Manage Bill Payments – Providing bill payment integration in both online and mobile banking offers account holders a simplistic and engaging bill payment experience.  Account holders have the ability to easily create payees, receive eBills, schedule and manage their payments all from a single screen.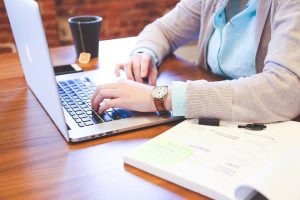 5. ACH Origination -Business account holders will appreciate the ease and simplicity of managing vendor account payables.  ACH origination allows any business customer to create electronic payments and deposits.
What is ACH? ACH stands for Automated Clearing House, which is an electronic network that allows people or businesses to directly transfer funds between two bank accounts. Organizations that create these transactions are called Originators. As a business expressing interest in starting ACH, you would be the Originator. Transactions can either be debits or credits.
          Learn more about the benefits ACH can provide.
 6. Payroll Management – Allow commercial account holders the flexibility to manage employees and directly deposit payroll funds through online banking via ACH.
 7. Secure File Upload – Grant access for users to securely transfer files in any format to your financial institution. Have a form containing confidential information? Users can securely upload the document after logging into online banking. If your merchant is utilizing Remote Deposit Capture, users can securely upload their X937 file through online banking.
 8. NACHA – Are your commercial account holders managing payroll through Quicken or QuickBooks? Allow users secure access to upload payroll files with built in alerts verifying the file format and monitoring limit sets.
 9. EFTPS Tax Payments – Businesses can submit their Electronic Federal Tax Payment System (EFTPS) payment from the online banking portal without having to access an additional website.
         What Is the Electronic Federal Tax Payment System (EFTPS)?
The Electronic Federal Tax Payment System (EFTPS) is a service provided by the U.S. Department of the Treasury. The service allows taxpayers to make tax payments either by telephone or online. This system is accessible every day of the week, 24 hours a day.
 10. Cash Concentration – Do you have a small business account receiving numerous bill payments on a reoccurring schedule? Think of a local gym collecting membership dues, a church collecting tithes or maybe a landlord managing multiple properties. Help streamline their accounts receivable by allowing them to enter their customers account information, pull funds for multiple ACH withdrawals and then enjoy a moment of relaxation while our application generates one file containing all individual payments!
Last year proved community banks and credit unions are committed to keeping the entrepreneurs dreams alive; let's continue supporting our small business owners in 2021 by enhancing their digital experience!
Ready to learn more about cash management features for business online banking? Contact Us!
Prior Blog Posts: